YA Logistics (UK) Ltd have shipped a couple of Super Yachts this year to destinations such as Miami, the Caribbean and Genoa, however the last one arrived into the port of Southampton and so we assisted with the cleaning and mooring.
We shipped the Pershing 64 from Gibraltar to Southampton and was alongside to assist the discharge operation.
Once the yacht had been safely discharged to the water we moved it round to our compound where we were able to lift it out and commence the cleaning operation.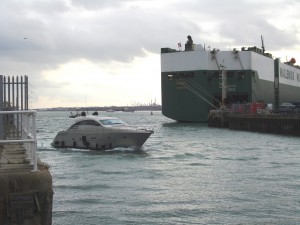 Once the yacht was alongside the quay and secure we were able to lift the yacht out of the water and begin to clean the hull.  This was a delicate operation and required 2 cranes and an experienced staff but as usual the operation went smoothly and the yacht was cleaned and ready to go back into the water.
Once the yacht had been cleaned we placed the yacht back in the water and then moved the yacht to a nearby marina where it will moored for the immediate future.
We have shipped many yachts around the world but this was certainly the most demanding but as with all jobs we aim to do our utmost to ensure the customer is cared for.
If you have any shipping requirements please do not hesitate to call us on 02380 339611 or check out our website www.yalogistics.co.uk