Our latest devanning job had YA Logistics (UK) Ltd unloading 3 classic American Auto-mobiles from a 40ft high cube container.
Two of the vehicles had been driven into the container with the third vehicle hanging from the top container cleats by chains assisted by a wooden frame.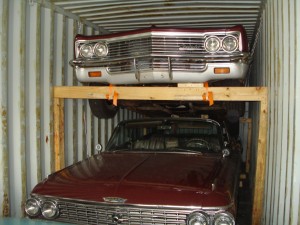 These type of jobs are certainly not easy especially as the vehicles weigh so much but once the first two vehicles were removed from the container we could start building a smaller framework underneath the rear wheels to take the weight of the rear of the vehicle and stabilise the rear of the vehicle.
Once the rear wheels were stable, we placed ramps on the framework.   We then brought in a containerised forklift and carefully situated the forks under the front of the framework.  Once everything was in place we cut through the sides of the framework, removed the side panels and removed the chains holding the vehicle.
We could then gently lower the forks whilst at the same time reversing which brought the rear wheels down the ramp.
An hour later and all three vehicles had been safely and successfully removed from the container.
The importer arrived at the port of Southampton the next day and was extremely happy to see his purchases had arrived safe and sound.
Once the final paperwork had been signed the importer loaded up the 1966 Chevy Caprice, 1962 Ford Galaxie and 1963 Mercury Monterey and drove off up the M3.
If you require any assistance with shipping or loading/unloading containers please see our website www.yalogistics.co.uk or call us on 02380 339611