Today we took delivery of a 1974 Ferrari Dino, a fairly rare sports car manufactured by Ferrari back in the sixties and seventies for sports cars with under 12 cylinders.
We loaded the car into a 20ft container on a beautiful sunny day in Southampton Docks.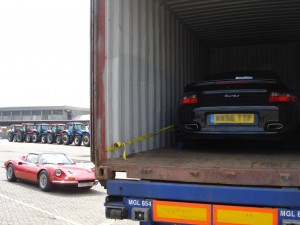 The Ferrari waiting whilst we load a Porsche
First we loaded a Porsche 911 Turbo into a container before we loaded the Ferrari Dino.
After a short period of time the Ferrari was loaded and soon secured and ready to start its journey to Japan.
If you require any shipping for classic sports cars or any other type of vehicle please call us on 02380 339611 or check out our website www.yalogistics.co.uk